Pool Deck Pavers Anaheim Hills
Pool and Patio Pavers
8 Reasons why you would prefer to cover your pool deck with pavers
A pool deck is an essential part of any swimming pool area. It provides a safe place to walk and the perfect surface for outdoor activities like entertaining or sunbathing. If you've ever used wood, concrete, or similar materials on your backyard's surface before, you know these materials are not ideal for this purpose. It can even be dangerous in some cases. That's why we offer high-quality materials that will give you peace of mind knowing that your family is walking on a durable, safer surface.
Say goodbye to the old, uneven concrete or wood deck. Upgrade your pool area with reliable stones that are long-lasting and attractive. As craftsmanship is so crucial for our professional installers, you can rest assured that we will install each paver with utmost precision. We only use the best materials because we know how much importance goes into designing an outdoor space that friends and family enjoy year after year.
Decking out your pool is a breeze with us at DP Paver Co. Whether you want to create or upgrade, we have what you need for your pool deck needs. It gives not only peace of mind knowing that it's durable and safe but also that the space looks great.
Call us to schedule your free estimate today!
Reasons to Choose Pavers for your pool deck
Pavers are an excellent choice for families that want their backyard to be a secure area that they can use for any activities. They last longer than other materials and won't weaken over time. You can trust that your kids will be safe from sliding while in the swimming pool area. We offer them in many different shapes and designs, so you'll find something perfect for your home or business at our store. Let us help make your backyard beautiful with these high-quality materials. Below are just a few of the reasons why should switch to paver stones.
1. Safer Pool Area
We will transform your pool deck with our pavers. It will give you peace of mind knowing that it's durable and safe to walk on. Pavers are less slippery than other materials. We also have crack-resistant ones so you know they will last for many years.
2. Beautiful Pools
Don't settle for anything less than the best. We have crafted our pavers to perfection and come in a variety of colors that will transform your pool area into something beautiful. Our pavers are available in multiple styles that will give you endless possibilities of design ideas. There is surely one that will match your home's exterior, so you can have a beautiful pool deck that is uniquely yours.
3. Pool Deck Pavers are Cooler
The surface of the paver is cooler than other materials. It can help keep your pool area comfortable and enjoyable, even during those hot summer days!

4. Fast Deck Tiles Installation
We offer quick and easy installation and can transform your pool deck in no time. You don't need to wait for long to enjoy your beautiful pool area. Your pool deck will transform before your eyes. Pavers have the power to turn a dull concrete slab into a beautiful backyard oasis. All you need is some quick installation and it's as good as done. Your family will love being able to enjoy their pool area this summer without delay.
5. Durable and strong
We craft our pavers with the best materials to ensure lasting beauty for years to come. Installation is simple, but it will last long. We guarantee you'll enjoy your pool deck for many years without inconvenience.
They consist of premium quality material to withstand the elements year after year. You get peace of mind knowing it's durable and enjoy a great-looking space outside for years to come. We stand behind our products 100%; if any issues arise, we're always available to help fix them immediately! Pavers look beautiful all year round. Whether you enjoy the pool during the summer months or want something nice and beautiful to look at in your backyard, our paving materials are a perfect choice.
6. Eco-Friendly
Our pavers are environmentally safe and do not contain harmful materials that will affect your family or pets in any way. Some of our pavers even help with erosion control. If you're looking for an upgrade to your backyard space, pool deck pavers are perfect for creating or upgrading your pool area or any other space.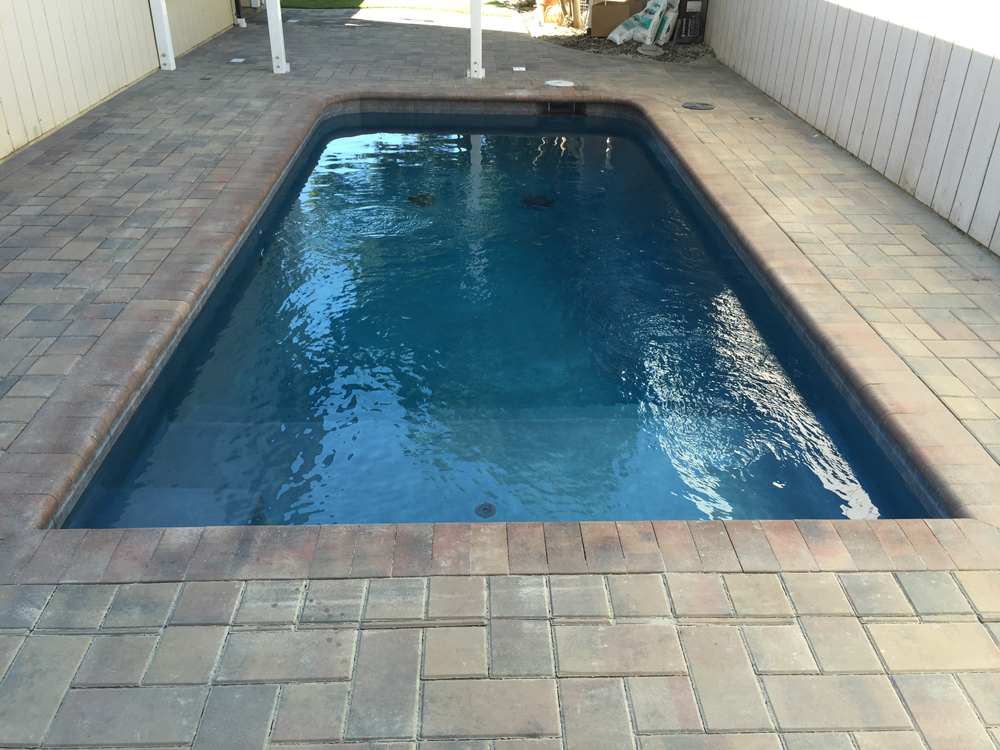 7. Practical
We know how important your budget is, so we offer all the benefits of our pavers at a competitive price. You can have peace of mind knowing you're spending on a long-lasting outdoor upgrade without breaking the bank.
8. Easy to Maintain and Repair
No need to worry about time-consuming chores. Our pavers are low maintenance so you don't have to spend much of your free time taking care of them. Pool decks are easy to repair too. Just remove and replace damaged parts without the need to repair the whole flooring.
There is no doubt that our high-quality pavers will transform any outdoor area into a stunning space. Whether you want to upgrade or create a space for your pool area, our pavers are the best choice. You can never go wrong with our pavers as they will provide a safe surface for your family to enjoy and look beautiful all year round.
We have what you need for your outdoor needs, so check out our wide selection of pavers today!
What type of pavers is best for your pool deck?
With so many types of pavers to choose from, it may be difficult for you to choose one. The good news is we have designers to help you come up with a decision. We carry all kinds of beautiful stones that will look sleek and uniform with any outdoor atmosphere. Take a few minutes and browse through some of our recommendations. Below are the most popular types that we offer that will best suit your pool deck.
Decorative Concrete Paver
Creating an outdoor living space does not have to drain your budget, but shall give you the chance to relax in comfort. With decorative concrete, you can choose from a vast array of colors, textures, and sizes.
You can customize it to suit your very own desires. The best part about these pavers is their durability and strength without sacrificing beauty and your resources.
Clay Paver
Fill out your pool area with unique and environmentally friendly pavers. Clay pavers blend well into both modern and traditional designs. Clay pavers are simple to install as one large sheet.
The earthy look offers a rustic charm perfect for adding accents in pool arrangements all while being easier on mother nature.
Bluestone
Bluestone Pavers are a great alternative to concrete, gravel, and dirty soil. They will provide your garden with the natural feel of stone.
Bluestone is easy to install and has many advantages including its long-lasting hardness and versatility in size and shape. Those are available in so many colors.
Granite Pavers
Granite paving stones are a great option to use for replacement jobs.
They are durable, environmentally friendly, have slip-resistant surfaces, have easy maintenance characteristics, and are safe because they do not easily emit heat or combustible gases.
Sandstone Paver
The Sandstone Paver has a natural appearance that is versatile and wears well underfoot. It naturally blends with all landscaping styles and comes with beautiful patterns for an aesthetically pleasing layout.
Our customers find the Sandstone Paver easy to install, durable, cost-sensitive as they last long, and awe-inspiring in appearance.
Brick Paving
Brick pavers are great for any kind of construction because they are thick and durable.
They'll last for ages outside or inside, maintain their original color, and look pretty stylish all year round.
Basalt
Basalt pavers are natural stones with natural textures and appearance to complement any design.
This means it is always a good investment. Basalt is also durable, making it perfect for all your landscaping needs.
Travertine
Travertine is a stunning pool paver that's perfect for both outdoor and indoor fixtures.
The warm tones of the Travertine stones go great with tranquil pools, large windows, and sunsets.
Limestone
If you're looking for a distinctive stone to accentuate the feeling of sophistication and age outside, look no further than limestone. Limestone has a wide variety of colors and textures that will serve as an exciting conversation starter. With finishes ranging from cool grays to warm beiges, there is always something for any space.
Your pool area is like a blank canvas waiting for the right type of pavers to show its beauty. Indulge your senses with the best in pool design. Our lineup of resilient pavers offers an unprecedented selection to suit every taste, no matter how creative you are.
When you are unsure which one to choose, our designers are more than happy to show you the samples. We are always available for a consultation so contact us now!
Browse our
Paving Stones Services
Pool Deck Paving
This is an example of a short passage of text used to give your customer a brief overview of a particular service.
Driveway Pavers
This is an example of a short passage of text used to give your customer a brief overview of a particular service.
Installation of Pavers
This is an example of a short passage of text used to give your customer a brief overview of a particular service.
Pavers Contractor
This is an example of a short passage of text used to give your customer a brief overview of a particular service.
Have paving questions?
Contact us today for a free cost estimate!